We are renovating our downstairs bathroom. We are removing the shower and just putting a toilet and vanity in there and hopefully a cupboard as well.  The room is not that big and we have some issues with the plumbing that will continue to be a problem if we put in a shower. There is currently a shower there but it doesn't work.  This vanity below is one that I like.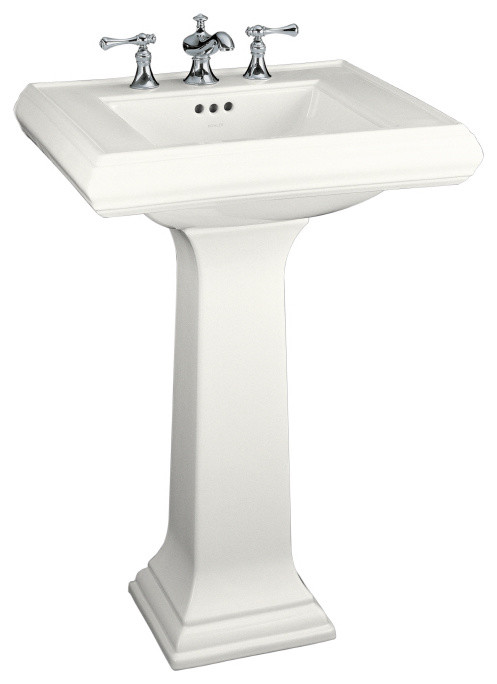 As you know from my post black and white bathrooms I am doing this one in black and white and I think this vanity will fit in well.
I also like these black and white tiles but they may be a bit big for a small space. The yellow gumboots look fantastic with it. Maybe I will do yellow accents.
These pedestal vanities look fab in this retro bathroom.
So what did I buy?  I ended up going quite retro with the black and white. I have hexagonal tiles in white on the floor with a smattering of black.  (Don't you just love the word smattering?)  The walls are a white subway tile with a black pencil and capping in black.
What a mess! The walls and ceiling come out.
Looking through the powder room walls to the laundry and side door.  The old floor tiles will have to stay. I can't afford to replace them.
The laundry wall is rebuilt.
There will be a bench top with cupboards underneath on this wall plus space for the washer and dryer underneath. These are the cupboards. Crisp white with a black marbled bench top.
Closeup of the bench top.
I have laid out the floor tiles ready for the tiler to install. The hexagonal white tiles will have the black scattered throughout.  There will be a black threshold of square tiles into the room so the tiles don't show on the outside of the door.
Here is the cute little basin I bought.
The tap will be the one below.
and the plumbing will be exposed below the sink.
We have built the cupboards ready for install.  It should all be done next week.  Can't wait!